THE ZOO

Classic Rock Experience

— a unique concept in entertainment —
Hi, my friends call me Wildcard.
Looking for a fresh and unique crowd pleaser for your event, venue, or fundraiser?


I have created a unique concept in entertainment. With rare live concert footage from almost 200 classic rock artists from the 60s-80s, your guests use their phones to decide who takes the virtual stage as they play a game to compete for prizes.

180+
Classic Rock Artists
Limitless
Live Show Possibilities
From Dylan to Dio
Amazing live performances like you've never seen them before.
These performances were captured before these artists were rock legends. Your guests will be thrilled to see and hear live versions of iconic songs as they compete for prizes. And the retro fashion adds to the fun!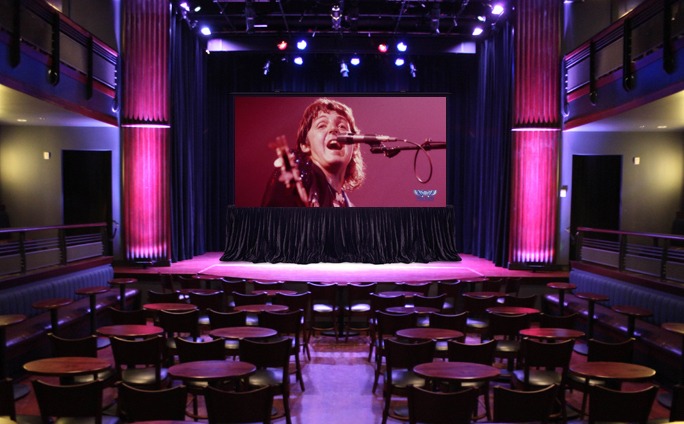 Designed to entertain your guests every time!
Stunning Performances
All original artists, remastered for better sound and visuals.
Audience Engagement
Every show is unique since your guests pick the artists.
Any Size Venue
Perfect for any size venue from TV "takeovers" to huge video walls.
No Hassle
Plug-in-play system works with any standard audio/video setup.
Background
I am a huge classic rock fan. I spent years collecting amazing and rare live concert footage. My friends kept noticing my collection and said "dude, I'll bet others would want to see this". So I started developing a fun and interactive show around it. As a musician with a background in sound engineering and technology, I carefully enhanced each performance and developed a software system and game app to keep the music and good times flowing. Voilà! The virtual rock show was born!
So, what's "The Zoo"? The Zoo is a famous classic rock radio station in Dallas/Ft. Worth, Texas, that went on the air in 1973, during the height of the (classic) rock scene. As a huge fan of the station, I jumped at the chance to support a great group of guys at Vokal Media that brought the station back as an internet radio stream. It really hit home to discover how many KZEW fans ('Zoo Freaks') were still around. So, as a nod to greatness, I named my rock show after the station and the focus of my show is on the music played on the station.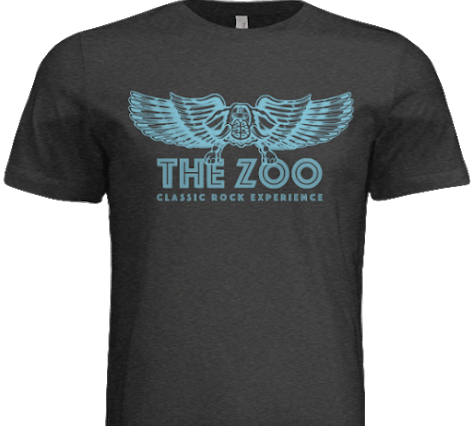 SUPPORT THE ZOO
Our popular t-shirts are high-quality, grey tri-blend material. Very comfortable, pre-shrunk, and wrinkle-free! Available in S, M, L, XL, or 2XL.
You can order online for only $25 each. If you don't plan to pick up at the show, please add $10 for shipping.
Buy Now
Frequently Asked Questions
Is this a live tribute band?

No. THE ZOO Classic Rock Experience is an interactive rock music sight and sound show.

Is this a typical DJ setup that plays music for the audience to dance too?

No. THE ZOO Classic Rock Experience is a video rock show that is controlled by the audience through their smart phones. It is for audiences that love classic rock music and enjoy watching restored rock concert performances.

What events are best for this show?

The show works great as a fun alternative to live bands, as a warm-up act, or even an intermission act for live bands. The game is also great for large private parties where a temporary stage and band equipment might be to much of a hassle or expense. In addition, the show works great for corporate events and fundraisers. Don't forget the game element! It is an ideal way to award gifts to your guests throughout the evening.

What venues work best for this show?

Venues of all sizes that are setup for live music are ideal because they will have a centralized video projection and sound system already in place. The show also works great in establishments that have a great sound system and TV panels throughout the place that can be linked together. But if that is not available, the A/V equipment can be easily sized and rented for the show. Indoors or outdoors.

How many guests will the show accommodate?

The show and game have been designed to work well with dozens to thousands of guests. From small venues to music festivals, THE ZOO Classic Rock Experience can entertain every guest with a mobile phone that wants to control the show and win prizes.

The show can run for any length of time. Typical shows are around 3 hours, but since the audience controls the fun, the show can entertain guests that come and go all day. Each show can have one of more games with winners so you can control the number of prizes awarded.

Can a business or organization sponsor a show?

Yes! Short video clips produced for or by the sponsor can be inserted into the show which is ideal at large concert venues and festivals. The show can be a unique marketing vehicle for corporate sponsors at any event.

Is a Master of Ceremonies (MC) required?

No. The show is designed is to keep the music flowing without interruption, so no microphone work is necessary for a successful show. Wildcard is typically situated in front of the guests to encourage them to come up and interact with him during the show. If the event requires breaks for annoucements, awards, etc., intermissions and an MC can be easily incorporated into the show.

Is the gaming element of the show required?

No. Actually the show was successful originally without the game. For some events, this may be desireable. The game was added to increase audience participation and keep guests engaged and patronizing the establishment all night through friendly competition and prizes.

Can the music be customized?

Yes. We have everything from Dylan to Dio, but we can customize the artists to create the right mood for the event's needs. Need to exclude hard rock? Only include singer/songwriter artists? Not a problem. We have an extensive catalog of classic rock to keep the fun going all night long.

I heard there is a money-back guarantee? Really?

Yes! We are so sure the show will entertain your guests that we offer a full money-back guarantee. Contact us for the details.